Our Beginning
A Brief History
In 1867, Rudolph Plegge, who lived and conducted a saddlery and harness shop on the ground, now occupied by the Original Hotel, noticed that water from his well drifted from most of the water he had come in contact with. He called the attention of August Schulze and Dr. James McIllwan, Sr., to have the water analyzed. Dr. McIlwain made some simple tests such as his equipment would permit and discovered magnesia in the water. He knew that there must also be sulfuric acid, for this is the only chemical that will hold magnesia in solution.
Samples of the water were sent to Prof. Enno Sanders, in St. Louis and his analysis showed very strong medicinal qualities; C.H.Kelle lived on a farm near town. Mr. Plegge knew that he had served in the famous baths that Baden-Baden, Germany, before coming to this country. So he consulted him and together they decided to build a small spa in the way of the famous waters of Europe. Dr. McIlwain, Sr., was given charge of the medical end of the institution. The business thrived in a small way, and water was sold to Rev., J.F. Schierbaum, who erected a modern institution. Later he sold out to Schreiner Brothers, and in 1892, the buildings burned. They were rebuilt during the fall and winter and with the additions since made, constitute the present Original Hotel Springs Hotel.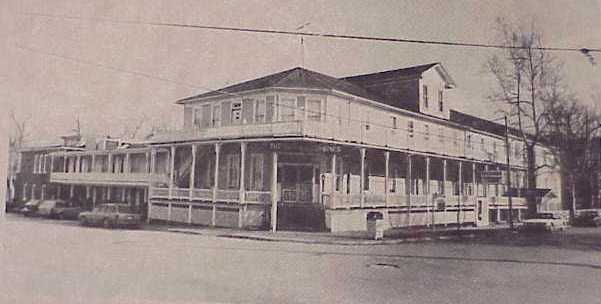 (Excerpts from Magazine "Egyptian Hustler", 1919)
MINERAL WATER IT'S GOOD FOR THE BODY
At some destinations vacationers are warned "DON'T DRINK THE WATER." but guests at the Original Springs Hotel & Mineral Bath are advised, PLEASE DO DRINK THE WATER."
Some of the healthful minerals found in the water are:
Calcium , which builds bones and teeth.
Magnesium needed for energy production and muscle strength.
Potassium provides energy and builds muscle.
Zinc vital to growth, important component of Fluoride, present in all body tissue.
Iodine , necessary for the function of the thyroid gland.
Iron needed for the formation of hemoglobin manganese, important to the proper function of the thyroid gland and bone growth.
Sulfur, found in the skin, hair, joints and nails and every cell in the body.
---
The Original Springs Mineral Spa & Hotel, 506 North Hanover, Okawville, Ill 62271 Tel 618-243-5458 Email: okawvill@midwest.net